Almost all noobs to geek are familiar with the
Fiverr.com
, World's most popular micro-job site which allows anyone to buy or post creative gigs, starts from just $5. Earlier it seems to be an impossible to raise a Fiverr like site due to the different modules need but Now you should check out the
WordPress Pricerr
Theme from
SiteMile
. Pricerr is best fiverr clone script, not merely an imitation. It's amazing  they've been able to make best fiverr clone wordpress theme that exactly match with Fiverr so closely using the WordPress Theme.
Pricing
Single Licence with lifetime Updates : $69.99
For special deal : CLICK HERE
Pricerr is World's only and the best fiverr clone theme for WordPress. It is most suitable for small fixed price auctions and micro-jobs websites.It's a Premium fiverr theme that  transforms regular WordPress blog in to a full-fledged micro job site where sellers can offer price for small price task and the buyers can buy nad make the payment using PayPal,  AlertPay, Authorize.net, and Google in 25 different currencies.It also offers custom payment gateway integration in your currency.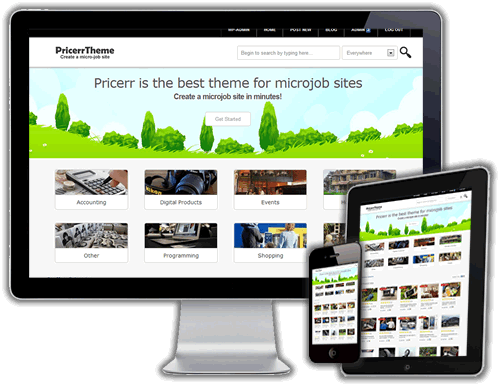 Fiverr Clone WordPress Theme Features
User profiles
Email notifications
Private messaging
Google maps in job listings
Google Analytics can be inserted
Integration of Social medias like Facebook and Twitter